Movement is what enables us to do all the things we enjoy in life.  Eating is movement.  Breathing is movement.  Talking is movement.  For me, one of my favorite ways to move it to travel the globe.  Here is a sampling of some of the travel sites that still make me smile when they cross my mind:
Favorite Trips:
Salt Flats in Bolivia:
Stand in the center of the salt flats and all you see is white to the horizon line.  You can play games with perspective in pictures.  I'd love to return in rainy season when the white salt with a layer of water reflects that sky and people upon it. 
Hot Springs in Pamukale, Turkey: 
As you approach the hot springs it looks like people are soaking in snowcapped inlets on a mountainside.  The reality is more like hard baking soda surrounding warm blue baths.  It's quite unique.  In Yellowstone there is a smaller version of something similar at Mammoth Hot Springs, but you can't go near it and it's hard to see. 
Grand Prismatic, Yellowstone: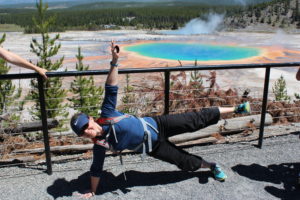 While I found Old Faithful a bit of a disappointment, I was truly wowed by the array of colors the earth creates on the surface at the Grand Prismatic.  Walking the boardwalk in this area is spectacular, but do no miss the short hike up to an outcropping to get a birds-eye view.  
Mexico (Butterflies, Whales, Island):
Going to Mexico, I had low expectations.  That was unfair.  It is one of the places that brought me the most joy.  We went to see the butterfly migration where we were surrounded by millions of butterflies fluttering awaking in the morning sun.  Then we traveled to Marietas Island off the coast of Puerto Vallarta.  While Puerto Vallarta is basically a giant frat party, Marietas Island is a stunning (though smelly from the guano) beach inside a cave with a perfect circular opening to the sky.  You swim in through a cave opening and wind up on a beach that is half inside, half outside.  Along the way, we had a mother and baby whale swim under out boat.  My whole trip to Mexico just felt magical and reminded me the world is filled with wonders.    
White Mountains:
One of my favorite places to hike is the White Mountains in New Hampshire.  They are unforgiving and prepare you for any hike you could take anywhere else in the world.  The best part about the Whites is how quickly you can attain incredible views.  Of course, Mt. Washington is fun, but the parking lot at the top takes a little something away from it.  My current favorite peak up there is Mt. Lafayette. 
Chile: 
Between Laguna San Rafael National park and Patagonia sits a little ecolodge on a green lake that glistens with a copper shimmer.  The air is fresh, the solitude is calming, the wine they heat by the fireplace is comforting.  I could have gazed out the window of our cabin all day. This is also where I walked on my first glacier. It was a place where you didn't lock your doors.  How could you?  If you did the man who entered the room at 5 a.m. to refill the wood stove couldn't get in.  From here you can see the marble caves and glorious landscapes. 
Keep Reading
For workouts for when you travel, click here.
It's hard to beat the pyramids.  Read about Maggie's trip to Egypt.
Even through mishaps on Mt. Lafayette, it's Maggie's favorite.  Read an oldie, but a goodie about what went wrong on that mountain.
Stay in Touch
Order Your Copy of Keep Moving Today!
Subscribe to the Keep Moving Blog
Like the Personal Euphoria Facebook page
Find us on Twitter
Follow me on Instagram
Subscribe to my YouTube Channel