Before Matt and I left for Portugal people recommended all sorts of food and experiences we should try.  One recommendation was Vinho Verde (an immature, white wine) and another was Fado (a somewhat melancholy, traditional music).  We wound up trying them on the same night.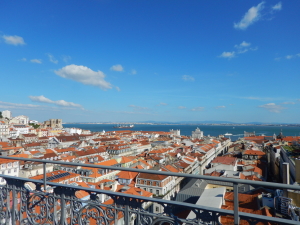 A view of Lisbon from above. Somewhere down there we were racing through the streets to get to Fado.
We'd gone out to dinner and were stuffed, but ran through the streets and staircases of Lisbon to get to the Fado bar.  The music was supposed to start promptly at nine.  People and restaurants were spilling out into the cobblestones streets, so we zigzagged down the small alleyways beneath colorful streamers hanging above and amongst the excitement of everyone watching soccer in the streets.
We arrived at the Fado bar just in time.  They had one table left. "We'll take it," we said.  "You'll be eating dinner?" they asked.  Oh, we were so full.  We didn't want dinner.  We just wanted to listen to the […]