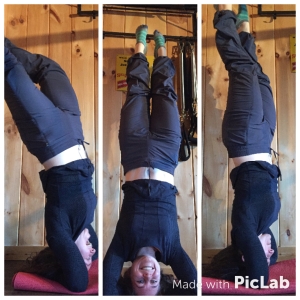 I'm actually working on my handstand, but this was the picture that had the most of me in it!
For two years I've been trying to do a handstand and the planche also known as the Peacock.  Two years is a long time to work on something and still not be there.  It can be frustrating.  My failure at the planche is lack of strength.  I'm just not strong enough in my shoulders, back or glutes to support myself in that position.  And I can't find my balance point.  The handstand, on the other hand, has nothing to do with strength.  I'm strong enough. I just can't figure it out.  If anything I'm not sure my shoulders are flexible enough for me to get in the right position.
I'm not giving up though and that's the point.  So far my experimentation with these exercise has been pretty regimented.  Must have strength.  Must follow this prescribed format.  That has been helpful, but it's only gotten me so far.  My current mode of operation is to be more playful when I'm working on these exercises.
That's helpful in a couple of ways.  I'm less stressed […]