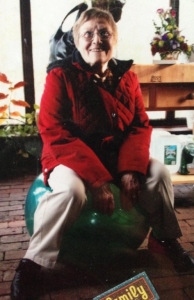 My Grandma at 88 on a Stability Ball.
Life and age can alter our perspective.  Years ago when my grandma was in her eighties, she hired a man to paint her house.  When talking to my mom, she would say that the "kid" kept taking breaks while he painted.  My mom pictured a kid slacking off, but then one day she was at my grandma's house when the painter was there and the "kid" was in his sixties.  He may have thought or felt old, but my grandma, twenty years his elder, didn't see it that way.
Recently, I was asking my grandma questions about her life.  One question was, "Who would you most like to have for dinner?"  Her response was, "Right who I have now.  My family."  What is so spectacularly wonderful about that comment is that she actually has exactly what she wants.
When I responded to the same question, I wanted Mark Twain, Ben Franklin, or one of my dead ancestors that I never got to meet.  The people I would like to host will never come to dinner at my house.  My instinct was to reach for impossibility, […]