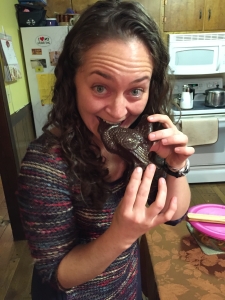 I have been on a Low FODMAP's diet since January 2nd.  Commencing immediately after the season of sugar, gluten, chocolate, carbs, gravy, chocolate, eggnog, and did I mention chocolate?
Forced into a Healthy Lifestyle
This diet is not by choice, although I guess no one can make me do it.  My gastroenterologist prescribed it.  I keep getting this frustrating gut bacteria called SIBO.  You can delve deeper into that in my blog titled, "Gas or Menstrual Cramps." It's a tale filled with TMI and information you may never have wanted to know about my large and small intestine, or maybe you are super curious about intestines.
My doctor thought Low FODMAPS is so important that she prescribed me a dietician to explain just how I'm supposed to eat now.  Going into the New Year I did not feel like I was in the right mental place to alter my food lifestyle.  Like a little kid, I just didn't wanna.  I keep reminding myself this is a LOW FODMAPs diet, not a NO FODMAPS diet.
Always Experimenting
This is not the first time I've tried a diet experiment.  Over the years, I've experimented with diets […]