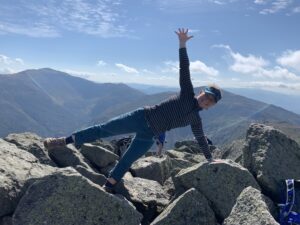 Five years ago I was hiking Mt. Adams in the White Mountains, but I turned back about 60 feet from the summit because high winds made me struggle to stay upright.  Those 60 feet mattered so I never checked it off the list in my attempt to climb all the 4,000-footers in New Hampshire.
Second Attempt Hiking Mt Adams
Recently I decided to try again.  To make things interesting I opted to take King's Ravine trail, known for being one of the more challenging trails in the White Mountains.  It is on the Terrifying 25 list.  That means it has slides, rock scrambles, and boulder caves.  It sounded fun.  Plus it had an option to detour onto a trail called the Subway which provided the opportunity to climb over rocks, squeeze through some tight tunnels, throw your pack up on a rock and spin around underneath it and pull yourself though and then grab your pack and continue on.  We were all scrapped up after the Subway but smiling and pleased with ourselves.
Unusual Circumstances
That morning before we knew the fun of the rock tunnels, we were greeted at the trailhead by a legitimate-looking older man in a beige National Forest shirt.  He explained that he was Search and Rescue Prevention.  He was there to make sure we didn't do anything we couldn't handle, because, of course, they would come out to save us (putting everyone's lives at risk and creating a hefty price tag), but he didn't want to have to do that.  The man encouraged us to turn back if we realized we'd stepped out of our physical range.  Assured in our trail choice, we thanked him and headed onto the path.  But he added, "Oh, and by the way, it's hunting season, you should be wearing bright orange."  A fear monger of the highest sort.  I've hiked for twenty years in the White Mountains and I've never heard a gun shot or come across another hiker ablaze in orange.
Caution Hiking Mt Adams
I'd never seen this cause for concern at any trail head.  Is this a new tactic in the White Mountains?  Is it this specific trail?  Should I be more worried?  His diatribe gave me a momentary pause as we got underway.  The majority of the trail is a normal challenge for the White Mountains (aka hard).  However, it's a particular half a mile that gains about 1300 feet in elevation and at times has what All Trails lists as a 51% grade.  That half mile is difficult, really difficult.  The rocks were covered in an invisible slime.  Finding traction was hard so my shins reached the summit battered and bruised.  Still, the scrambling was fun. It was after the subway and scrambling that the hike got a little unnerving.  At its steepest loose rock would fall behind each step the person leading took.  The falling rocks made me uneasy, but at that point, turning back would have been a terrible idea.
No Turning Back
It got me thinking. The man at the bottom should not blanketly be telling people to turn back if things get tough, but instead to slow down, take a breath, keep your focus, take your time, make smart decisions, support each other, and look for the best path.  I have no doubt that turning back would have been more treacherous.  On a day with great weather like we had, the hike is doable for an experienced hiker.  I know his messaging wasn't about giving up, but about safety.  But sometimes in life and on the mountain the best way ahead is up and you have to figure out how to get there safe and sound.  Turning around is not the best choice.
Support of Friends
I would not have wanted to hike it alone.  Luckily, my brother, Will, and a friend joined me.  My brother has agreed to hike all the 4,000 footers that I'd call sucky.  For me the sucky ones are long slogs through the woods without much of a view or maybe a glimpse at a view from an outlook.  They aren't grueling hikes straight up.  Those I enjoy. Mt. Adams does not make my sucky list.
Mountain Motivation
Around the time rocks were falling, we were all pretty tired and a tad nervous, I said to Will, "You know, this is not one of the mountains on my sucky list."  Will sighed and said, "You and I have very different definitions of sucky."  I laughed. I'm not sure he will be hiking Mt Adams again.
Not long after I heard him talking to himself.  After the hike we have a tradition of stopping at a brewery and pizza place for dinner.  Will was pulling himself over boulders and saying in a somewhat disgruntled tone, "Two pizzas.  I'm having two pizzas for dinner."
"Whatever motivates you to get up.  Because we are not turning back now!" I assured him.
Your Motivation
So many times in life, even for the things we love and are passionate about we need to figure out a way to motivate ourselves to keep moving (literally or figuratively).  For Will in that moment it was pizza.  For me it has been setting the goal of hiking the forty-eight 4,000-footers.  That goal itself gets me to the mountains more.
It is figuring out what exactly will motivate you in a particular situation that is key.  That requires knowing yourself without judgement.  Because sometimes the motivation is greasy, good food.  Other times it is a random goal that appears arbitrary.  What motivates you doesn't matter.  It's how you use it to get through the ups and the downs, the moments you enjoy and the moments you find yourself challenged.  It is figuring out what you need to safely achieve your goal even if you showed up unprepared for hunting season all around you.
Interested in Finding Your Motivation to Move?
Maggie presents at conferences and provides Corporate Lunch & Learns on various topics including Finding Your Motivation to Move.  Reach out for more information.
Keep Reading More of Maggie's Blogs:
Read about the feelings of failure when Maggie turned back hiking Mt. Kilimanjaro.
Maggie's Dad taught her to pee like a guy on a mountaintop.  Click here to laugh.
On a desert hike in Jordan, Maggie struggled to keep up!
Keep Connected:
Order Your Copy of Keep Moving Today!
Subscribe to the Keep Moving Blog
Like the Personal Euphoria Facebook page
Find us on Twitter
Follow me on Instagram
Subscribe to my YouTube Channel