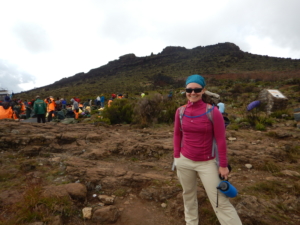 When I was planning my trip to Mt. Kilimanjaro, I wish I could have found a list of tips for hiking Mt Kilimanjaro to help me prepare.  What's out there is every tour organizations plug for why they are the best at getting people to the top, but not really helpful info from someone who had done it.  For the 35,000 people who hike the mountain each year, this lack of information is a gaping hole in the internet where you can usually find answers to everything.  Everyone has a different experience, and you may discover you have different needs than I did.  But after hiking, these are the things I wish I could have known earlier.  Each of these helped make my hike better and easier.  There is no particular order here.  I'd want them all.
Tips for Hiking Mt Kilimanjaro
Balaclava: Bring a balaclava for the journey. A thin one like they wear in the television show Survivor works best.  This becomes a very versatile tool.  You can cover your face to protect from dust and sun.  You can cover your nose to help warm the cold air a little so your nostrils get less dry and sore.  And you can keep your head warm at night.  Plus it helps mask the greasy hair you'll eventually develop.
Pillow: Sleeping is hard on the mountain.  Making it as comfortable as possible helps.  I used the My Pillow Travel Size which had the added bonus of being compressible so I could fit it in my stuff sack with my sleeping bag.
Join a Group: I knew I wanted other people for the hike, so part of my decision in selecting which tour group to join was based on how many people were part of the group.  We had a group of eight and it was perfect.  Meeting new people provides a distraction and creates a fun dynamic.  I wouldn't want to hike with less than five people.  And I'm not sure how solo trekkers do it.
Electrolyte Powder: You drink 4-6 liters of water a day.  Sometimes a little flavoring helps.  Plus, I'm sure getting electrolytes doesn't hurt.
Comfy Camp Shoes: I hemmed and hawed over whether this was worth taking and I brought a pair of sneakers that I thought would be versatile.  I wished I had something I could have slipped on over thick socks.  At night when you get up to pee, you want to make the process quick and easy.
Pee Container: If you don't want to leave your sleeping bag, you can bring a container for urine that you use right outside the tent (or inside if you are brave).  This was definitely handy, but was usually filled by one person on one pee, so it won't keep you from ever having to get up.  But it's cold at night, so it's nice not to have to leave the tent as often.
Two Headlamps: You'll use your headlamp every night and in order to summit.  It's imperative.  I always pack two when I hike and have never needed both, but on this trip I broke my headlamp on night one and hadn't packed a second.
Doggy Bags: Not having a dog, I would never have thought to bring those little rolls of bags dog owners follow their pooches around with. They are very handy for a variety of needs.  If you happen to be one of the many unlikely folks on the mountain who vomits, you can use these bags as a vomit respectable.  It's another way to get to stay in your tent if you are sick at night.  Plus they can be a garbage bag, a sand collector, or a way to organize items.
Diamox: This is a medication that can help alleviate altitude sickness. It needs to be prescribed so talk to your doctor.  I would not hike without this.  I've been in high altitudes without Diamox.  If your doctors agrees it's safe for you, take the Diamox.
Imodium: More than half our group had some unpleasant bowel trouble.  Imodium may have been the most sought after item on the mountain.  Just plan on needing a full supply daily and be happy if you don't require it.  Better to have it and not need it than to need it and not have it.  Pepto Bismol was regularly consumed by our group too, but it wasn't as vital as Imodium.
Baby Wipes: They are really the only way to get clean.  And if you wind up needing the Imodium you will also be really glad to have them.   I brought basic wipes and ones that are more sensitive and meant for your face.
Sleeping Pad: Our tour group provided foam sleeping pads.  I still brought my air pad, and was so glad I did.  With my pillow and two pads I was really comfortable.  Plus it helps keep you warm.  When my feet were off my air pad, but on the one provided they got cold quickly.  Those in our group who hadn't brought an extra pad wished they had.
Pantiliners (Women Only): I always wear these when I hike.  If you have to squat to pee or you are ever going to find yourself in a position where you need to pee and may not be able to wipe, these help keep you and your underwear dry.
Swedish Fish, Jolly Ranchers or another sweet candy that travels well: For everyone in our group who got sick, the only thing they could stomach were Swedish Fish.  Plus, after long days of hiking a little treat of something sweet feels like a small miracle.  And if your throat gets dry, a hard candy to suck on can help alleviate the tenderness.
Quality Crew: Make sure you do your research and find a quality tour group to travel with. We ended up going with ClimbKili, and I was really happy.  There are higher end outfitters out there, but our guides and porters were outstanding.  Our tents were always clean.  And they boiled water so we could wash our hands with warm water.  Other groups provided cold water.  That may seem like a small detail, but it makes a big difference on the mountain.  ClimbKili also carry a private toilet tent.  And the food was really quite good for hiking a mountain at high altitudes, which can make cooking a challenge.  The porters were helpful and sang to us.  The guides went above and beyond to help us all succeed.  And I felt I trusted them and believed they had all our best interests in mind.  As an added bonus they taught us Swahili along the trail.
In addition to having all those items to make the journey better consider these actions:
Sleep when you can. You may not get good sleep at night, so nap and rest whenever you feel tired.  Don't worry about whether you will be up all night if you nap late in the day.  You might be up all night anyway and then you won't have slept at all.  Plus, during the day when the sun is on the tent it's so warm and nice to curl up and take a break.
Start each day with one liter of water. Water is the medicine of the mountain.  You can't drink enough.  I found drinking a liter before I got moving made me feel considerably better.
Take Diamox at dinner. My doctor prescribed two 125mg pills twice per day.  At first I was taking it when I woke up and went to bed.  At night I started taking it earlier with dinner in hopes that I wouldn't have to get up and pee three times a night.  It seemed to help.  This may have been mind over matter or exhaustion, but consider taking the pill with dinner instead of at bedtime.  In addition, to help reduce the nightly bladder wake up calls, stop drinking, or at least limit fluid intake, after dinner.
Stay Warm. This may seem obvious, but I made the mistake in the beginning of rationing my warm clothes for when it really got cold.  This was a huge mistake.  I had plenty of warm clothes.  I didn't need to ration anything and being warm helped me sleep and feel less miserable.  Bring enough warm hands (those packets that heat up with oxygen exposure) so that you can throw a couple in your sleeping bag each night.  Don't let anyone throw you off what you know you need.  I get cold really easily.  At the first camp a ranger told me I shouldn't need the gloves he saw me putting on because this "was a warm camp."  I let that get in my head.  He didn't need the gloves.  Good for him.  I did.  Do what you need to keep warm.
Know Your Limits. I personally don't think anyone should hike Mt. Kilimanjaro unless they know they will be willing to turn back if they start having problems.  You can push through a lot, but the consequences of altitude sickness can be pretty severe.  They affect everyone differently.  Listen to your body and the guides to make the best decision possible as you hike.
Consider prepping for the trip by seeing how you feel somewhere high. I'm talking about 13 or 14K feet high.
Everyone on this mountain has a different experience.  I met a 75-year-old who reached the top.  I met a thirty-year-old who didn't take Diamox and said the last hour was "kind of a challenge."  Someone in my group said it was worth it, but she thought she took a couple years off her life.  Matt, my boyfriend, said it was the hardest physical thing he'd ever done.  I had to turn back around 17,800-feet.  It was a painful decision, but it was also no decision.  I want to live to hike another mountain.  Though I didn't make it to the top, I don't regret going.   If you are going to hike Kili, be prepared for the worst and hope for the best.  As they say on the mountain, Hakuna Matata.
(Note: I'm not paid by anyone or item I recommend here about tips for hiking Mt Kilimanjaro.  Just offering what helped me and providing specifics on details if I thought it was worth it.)
Want more Personal Euphoria?
Follow the Personal Euphoria Facebook page, follow Personal Euphoria on Instagram, and subscribe to the Personal Euphoria YouTube Channel.