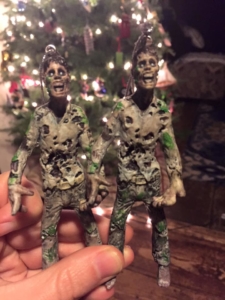 Great minds think alike, I guess?
Matt and I have a tradition of exchanging Christmas ornaments each year.  Last year we unknowingly gave each other the same zombies in honor of our love for The Walking Dead.  We hang both on the tree.  I've made him a stained glass pumpkin because he prefers Halloween to Christmas.  He's bought me a field hockey player.  I got him a Santa Clause riding a giant fish.  It's meant for a fisherman, but we both loved the movie Big Fish. He gave me an Irish Santa.
Years ago, I gave Matt a blown glass ball with blue waves to represent his company, Tsunami Tsolutions.  A few years later, we decorated our tree, ran out, came back and found that the tree had fallen over.  A few ornaments had shattered, including the blown glass wave.  He asked if I could get it again.  I wasn't sure.  I hadn't bought in on Amazon.  I'd found it someplace random.  And when I searched Google again for "wave ornament" or "blown glass wave" nothing was coming up.
Meanwhile our friend Maureen had been suggesting for a […]