Clearly, I need to do more arm workouts.  My friend's eight-year-old daughter asked me how old I was.  I made the mistake of saying, "How old do you think I am?"  She walked over to me and instructed me to lift my arm up and out to the side with a bent elbow.  Then she patted my tricep flab to test its giggle-bility and pronounced me "forty!"  I'm thirty-six.  Apparently, my triceps age me.
Everyone laughed and my father-in-love (what we endearingly call my boyfriend's dad) asked the eight-year-old how old she thought he was.  "Fifty," she guessed.  In her mind I was ten years younger than a 78-year-old man.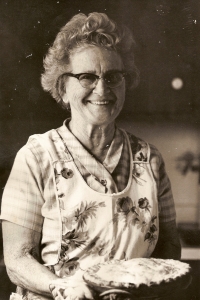 This is my great-grandma.
As a little girl, I was fascinated by my great-grandma's tricep flab, and she amazingly let me play with it.  She was reasonably toned, but I could still whack her sagging arm back and forth.  Born in 1899, she'd spent her early years washing her clothes by hand and cooking everything by hand, using a whisk instead of electric beaters.  She was strong.  Some tricep flab is going to happen to the best of us.
April Arm Month
In honor of […]