Our team at Personal Euphoria gets together quarterly to do an activity.  Most recently we tried Chakra Dancing with Anne Stamatakis from Circle of Life Holistic Health.  I'm familiar with Chakras in that I would have told you they are different colored balls of energy relating to different parts of the body.  So, I guess, on second thought, I would say I'm not at all familiar with Chakras, which is part of what intrigued me.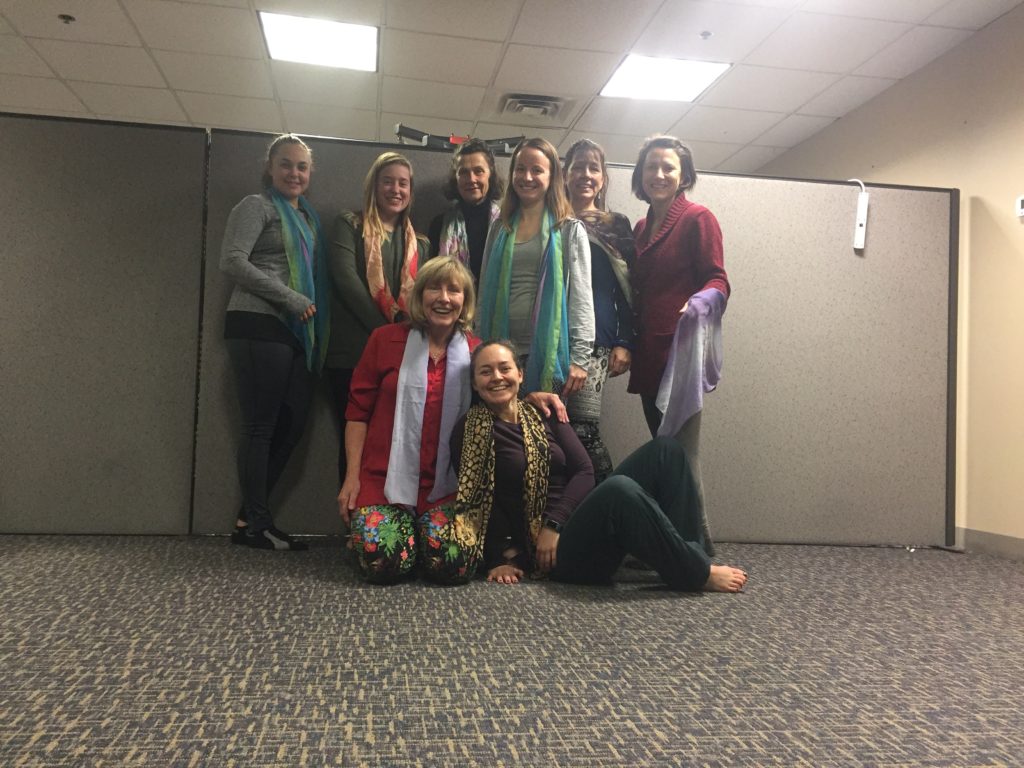 I've known Anne for years. She has taken our group classes and private lessons and for years I've been meaning to try one of her classes.  Lack of time made me hesitate.  But, if I'm being honest, I presumed Chakra Dance was a little out of my comfort zone.
Clearly, I know myself well. This turned out to be way out of my comfort zone.  Anne is a fantastic guide on the journey, but how uncomfortable I felt made me additionally uncomfortable.  I could not believe how hard it was for me to let go.  Letting go required work, which seems like a contradiction.  I often found myself reigning in my own movement. Alone in a room I could have gotten much more wild, silly, bigger, and exploratory with my moves.  But I would not have had Anne talking me through the meaning of the different songs and chakras, guiding me down a path.  Her guidance is definitely an important part of the process.
In the moments when I found I was letting go, it felt spectacular—a release I didn't know I needed. Sharing a space with seven people, yet feeling at times like I was completely alone was fascinating. Feeling like I had the room to myself yet simultaneously being connected to the group was intriguing.   I felt like the night was a mass of contradictions.  It felt so wonderful to let go, but I was petrified of doing it. After the dance, Anne guided us through a little self-analysis while drawing.  I wrote, "burdensome release"and "uneven balance."  More contradictions.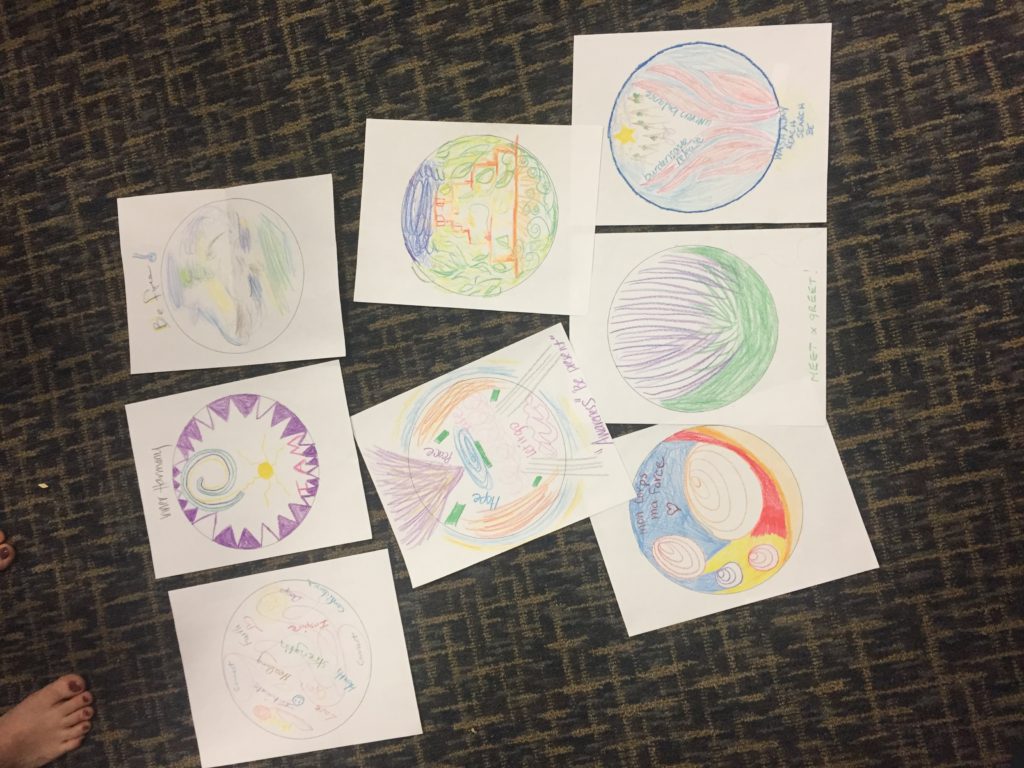 As adults we are often so guarded.  When I did let go, I felt like a teenager dancing alone in my room, a regular event of my youth that has disappeared entirely from my adult life.  Silly, free-style movement has gone missing from many adult lives. Form and safety are key, but so are spirals, non-linear movement, and wiggling and squirming.  There is no bad movement if it feels good. And the body requires all sorts of movement.
As kids, we throw and toss our bodies around.  We wiggle and squirm.  We rush and race until we flop down in a pile of pliable exhaustion.  But once we enter sports or dance classes, sometimes movement becomes regimented, which isn't bad in and of itself.  And, if we never dance or play sports, most movement tends to fade from our lives entirely. 
One type of movement is not better than another.  We need stability and control as much as we need freedom and flexibility.  It's the balance of the two that is quite challenging to achieve. 
I'd recommend a chakra dance class for a few reasons.  The class was a workout.  I was sweating and tired by the end.  Dancing for an hour is exerting.  I think it's a style of movement our body doesn't get often.  I also think it's okay to feel a little uncomfortable in a safe space which Anne provides.  We tend to grow when we push beyond our comfort zones. At the very least we learn something about ourselves. At Anne's class no one is going to force you to do more than you feel safe doing.  She says some people just sway and she has even had someone come, sit, and listen to the music. 
Trying new things is always beneficial.  Like a child scrunching her face at a plate of vegetables, we never know if we will like something until we try it.  And, the real question is, can you let go?  I'd love to know. 
Read More:
Read about that time we tried walking on fire!
or how to make a multi-colored igloo.
Stay Connected:
Order Your Copy of KeepMoving Today!
Subscribe to the Keep Moving Blog
Like the Personal Euphoria Facebook page 
Find us on Twitter
Follow me on Instagram
Subscribe to my YouTube Channel