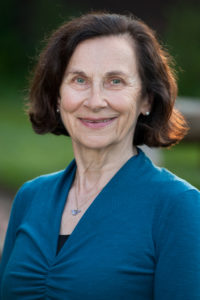 Jeannine was the first instructor to come on board with Personal Euphoria.  She has a great sense of humor and a strong work ethic.  We are so lucky she is a part of our team.  She teaches all over the place: Wethersfield, Glastonbury, Rocky Hill, Portland, and for some of our corporate clients.  While you are most likely to find her teaching Pilates she also teaches traditional ballet and strength classes.  She's always willing to sub when needed. Here's Jeannine's instructor highlight!
Get to Know Jeannine
When you aren't teaching what are some of your favorite ways to move?
When not teaching, I power walk, run trails, ride horses, and do a lot of gardening.
What song motivates or picks you up the most?
Music favorites vary depending on the mood I'm in. I prefer classical music. "O Fortuna" from Carl Orff's Carmina Burana comes to mind.
Favorite Food?
I like to eat what I make. A year-round favorite is home-made pureed vegetable soup with a couple of scoops of whole grains such as quinoa, buckwheat, brown rice, wheat berries.
Time you normally crawl into bed?
Bed time depends on wake-up time, so it can vary from 9 if I wake up at 5:30 to 11, averaging 10.  
What skill would you like to master?
I would like to continue working on developing horseback riding skills, focusing on dressage.
What would be the most amazing adventure to go on?
A wonderful adventure would take me to on a riding adventure in the west in Wyoming or Montana.
Favorite season?  Why?
I really have no favorite season as they all have something wonderful to offer. I believe there are only two: hot and cold, light and dark. Transitions from one to the other are the most interesting because of the sun's position.
Best advice you've ever gotten?
The best advice ever given is the same no matter how stated or the source: "Go for it," "Dance as if no one is watching," and "You're safer when you let go."