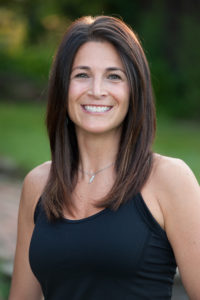 Elaine joined the Personal Euphoria team in fall of 2017.  She teaches barre and yoga.  You can currently find her teaching in Glastonbury and Wethersfield.  Here's her instructor highlight!
Get to know Elaine:
When you aren't teaching what are some of your favorite ways to move? 
I love hiking and skiing and try to personally practice yoga whenever I can. I ran my first half marathon this year so I guess I will cautiously call myself a runner too! 
What song motivates or picks you up the most?
This is a tough one! It changes depending on my mood and the decade!
Favorite Food?
Avocados!
Time you normally crawl into bed?
11:00pm but I am working on getting to bed earlier!
What skill would you like to master?
Physically… pull ups. In life… patience!
What would be the most amazing adventure to go on?
A back packing trip through Europe! I should have done it in my 20's but now it's my goal is to do it in 40's!
Favorite season?  Why?
Summer, everything about it! The sun, the heat, the ocean, swimming, boating, kayaking, camping.  The list goes on.
Best advice you've ever gotten?
Everything you need you already have! 
Did you see Heather's instructor highlight?  Click here.
Want to read about the first time Maggie tried an Ashtanga Yoga class?  Click here.