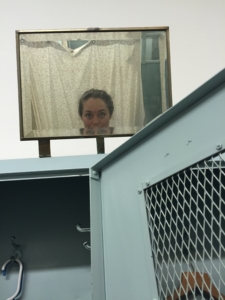 Hot Springs, Arkansas is known for natural hot springs that are plumbed through the hotels and bathhouses positioned around bathhouse row.  This might be a little bit underappreciated today, but during Hot Springs heyday, hot running water in a building may have seemed miraculous.  My grandma who was born in 1926 once told me that the most life changing technology of her lifetime was hot running water.  We take it for granted now.
Hot Springs seems like a time capsule.  Bathhouse row came to prominence in the nineteen-teens.  As far as I can tell, some buildings did some updates in 1960, and no one has touched anything since.  It's a cross between two distinct times.
I was eager to try the public bathing experience offered at Buckstaff Bath House. (I've gotten braver after my Turkish bath.)  Buckstaff offers the same experience you would have received in 1912, except the attendants don't dress as nurses.  I was game.  Matt was not.  (After his Turkish bath, I think he's had enough strangers bathing him and public nudity for a lifetime.)  Plus, he'd pulled his back earlier in the trip.  All the driving didn't help.  He headed back to the hotel to see if he could get a massage.  In hindsight, this was a mistake.  Our hotel was kind of dank and dreary.  Not the kind of place you'd want anyone to rub you with your clothes off.
Eager to improve his back, he inquired.  Buford, he was informed, was currently available for a massage.  And then they staff proceeded to wake up a man slumped over his own arms, asleep, leaning on a table.  "Buford.  You have a massage."  Buford looked like a 70-year-old Dizzie Gillespie.  When he approached Matt, Matt saw he was blind and thought it was possible this would be the best massage of his life.  This could be the Ray Charles of massage.  He may feel the muscles the way Charles feels the piano keys.  Buford escorted Matt to an uncovered massage table and Matt got down directly on the plastic.  Buford put on some rubber gloves, doused Matt in talcum powder and some lotion and commenced poking.  That's right, poking, not rubbing.  If that wasn't bad enough, Buford had long nails.  Twenty minutes in, Buford announced the torture was over.  Matt got up, relieved that the massage had ended early, but his joy was short-lived.  The other staff members said, "Buford.  What are you doing?  That's an hour."
"That's okay," Matt said.  "I'm good."
"What do you mean it's okay?  Get back on the table." Buford ordered.
So Matt lay down again.  Buford set a timer: one minute, two minutes, three minutes, four minutes.  Each number recited up to forty.  And Matt settled in for his full punishment.  He should have just had a stranger give him a bath.
My experience was great.  You have to be okay being naked in front of people, but there was far more modesty than when we took a Turkish Bath in Turkey.  After stripping down, the attendant wraps a sheet around you like a toga.  Then they take you for a 20-minute bath with raging bubbles.  A motor and what looks like a giant meat thermometer stick out of the tub.  One is there for the bubbles.  One is there, I assume, to ensure the water doesn't get too hot.  They give you hot water to drink straight from the springs.  Sweat is the goal.  If you're on the shorter side like me, they stick a wooden board at your feet so you don't slide too far down the tub.
After the tub comes the vapor chamber.  This is a box that is basically a steam room.  You sit down and they close the stainless steel door in front and close the two sides of the top around your neck so your head is sticking out.  I know everyone else is doing it, but I couldn't help but wonder how funny I looked as this disembodied head sticking out of a box.  Everything is very clinical and industrial looking.  Stainless steel and small white tiles abound.  Just as you're about to pass out from the heat of the steam, they move you to the sitz bath.
This, I was informed was for hemorrhoids or low back pain, but I can't imaging getting into this thing if I had back pain.  It's basically like an old farmers sink on the floor.  You sit with your butt in the sink an your legs dangling out over the edge—an awkward, public butt bath that someone else was just in.  Then they lay you on a padded stainless steel table and cover you in hot towels.  At almost every station just as I was about to fall asleep they'd come to move me to the next place.
After the towels came the shower.  Though I kind of felt like a cow being led around, this station, while scary looking, was wonderful.  Today, nice showers often have multiple heads in order to hit the body all over.  It's never right though.  It's never where I'd position the water flow.  This historic relic was superb.  It was metal pipes, inches apart, that ran from the neck to the knees.  Each tube was pocked with holes.  My body was completely saturated in water.  Wonderful.
Then a massage and, unlike Matt, my therapist was fantastic.  She knew her stuff.  We talked about fascia and how movement reduces pain.  I was pretty much in all my glory.   I could have slept the entire day.  I came out as exhausted as after you've spent too much time in the sun, but it felt superb.  Water therapy has been used as a tool for centuries.  I think I now know why.
Luckily for Matt, we have the greatest massage therapist in our home town, so he made an appointment with Kim at Woodside Massage for our first day home.  To say she is better than Buford is an understatement.  She's incredible.  But at least he has a story to tell.
Want more Personal Euphoria?
Follow the Personal Euphoria Facebook page, follow Personal Euphoria on Instagram, and subscribe to the Personal Euphoria YouTube Channel.