"Do what your body can do today," Janice Flanigan calls out as my leg lifts for what feels like the millionth time and every muscle holding me up starts to burn. I'm at a Total Barre class in Glastonbury which Janice loves to teach because of its focus on the core, hips and legs. By the time 45 minutes have gone by I've gotten a full body workout, and I happily relax into our cool down.
Janice has been teaching many different types of classes for over 20 years. You can find her teaching Total Barre, Pilates Plus Strength, Interval Training Cardio, Low Impact Cardio-Strength and Kickboxing this fall with Personal Euphoria. Each class offers a different challenge for her clients.  Janice says:
I love Pilates because of its precision.  I love Yogalates because we get the best of both worlds with the spirituality and strengthening and stretching of Yoga and the critical core strength of Pilates.  
A class that is particularly special is her weekly boxing class held at the Enfield Senior Center. The class is a combination of boxing and functional interval training, and while you are certain to find traditional boxing movements such as jabs and hooks this class is unique because the participants have all been diagnosed with Parkinson's.
Janice has been working with clients with Parkinson's for about 3 years. She works with Beat Parkinson's Today, the boxing class at Enfield Senior Center.
According to Janice, the class is unique because "we work on everyone's symptoms, and in each class we have different students with different symptoms.  No two classes are the same. We work with their strengths and their weaknesses.  We use a baseline for all clients so they can see their progression in areas they are improving such as balance, agility, and posture."
Exercises is vital to a healthy life with Parkinson's.  In 2003, Dr. Colcombe and Kramer examined 18 scientific studies and found that exercise increases cognitive performance in healthy adults and an additional analysis from 2004, published by Dr. Heyn and colleagues confirmed similar beneficial effects from exercise specifically for people over 65 with cognitive impairment or dementia.
More recent studies have shown that boxing has specific benefits versus traditional aerobic exercise. A 2013 review in Lancet Neurology found that Boxing seems to improve the brain function of those in Parkinson which can improve their motor control. Parkinson's patients become more engaged with practicing and learning movements and skills that used to be automatic and unconscious, such as rising up on their toes, or extending their arm for a jab or balancing their weight from one leg to another. A study that came out the same year in the Journal of the American Physical Therapy Association randomly assigned participants boxing or traditional exercises over 12 weeks.  The boxing group demonstrated significant improvements in gate velocity and endurance over time versus the traditional exercise group. Both groups showed significant improvements with balance, mobility and quality of life.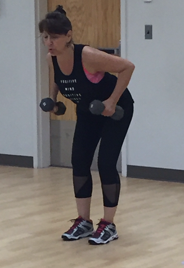 Over the class sessions Janice has seen these effects, noting an increased strength in her clients and a reduction of their Parkinson's symptoms. "It is very rewarding to see my students confidence increase," she says.
Janice prides herself in having a positive impact on all her clients and always finds the right way to challenge them.  Janice is adept at finding modifications for her clients to ensure they get the benefits of their workout while acknowledging and respecting how their body is feeling that day. Janice describes her fitness philosophy as "Mix it Up!" believing that variety is essential to overall fitness.
"Cardio through interval training, running, walking, or elliptical to name a few varieties, and strength such as Pilates or functional training.  It's important to have fun and enjoy your workouts.  And rest is a huge component of any fitness plan."
You can bet I took Janice's rest philosophy to heart when I woke up the day after her barre class.
To see when Janice is teaching this fall visit the Personal Euphoria Schedule
Janice's Enflield Class was recently featured in the Hartford Courant which you can read about here
Video Featuring Janice's Beat PD Class
Interested in finding out more information about BeatPD? Go to beatpdtoday.com
This blog was written by Personal Euphoria Instructor, Jess Tucker.
Though Janice's Enflield class is not a PE class, we thought the work she is doing is so important it was worth highlighting.  Plus, we have such a great team of instructors that once in a while we like to brag about them a little.