Adult coloring books are all the rage lately.  I snicker each time I see one because apparently part of me is still twelve years old, and that part imagines that I'll open the "adult" coloring books and discover naked images to color in, but that's never it.  They are usually beautiful patterns or serene scenes.  I tried it.  I hated it.  It felt like an added stressor, something else to do, and I always felt like I could have picked a better color.  Plus, it's boring.  So I gave my adult coloring book away.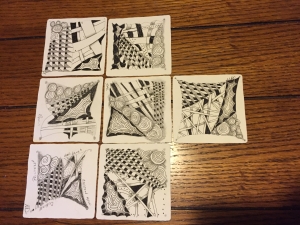 Meanwhile, in a similar vein there is Zentangle.  While they don't like the word "doodle," conceptually, it's basically mindful doodling.  You wouldn't think you need a lesson in how to doodle, but you do, at least if you want your doodles to look like art.  The images you create look cool and intricate, even though the patterns are simple to make.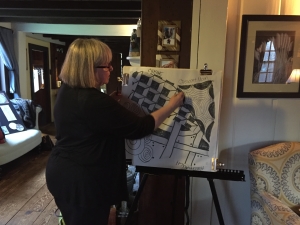 The Personal Euphoria team had a Zentangle lesson last week.  Our instructor, Janet, talked us through very simple lines and strokes to create impressive, 3-D-looking designs.  Janet gave us all the same cues, but all our projects came out differently.  She encouraged us to do our own thing, but if we were learning how to draw a square, we all learned the same square, but then concocted our own image of that square.
I got lost in the shapes.  It reminded me of when I make Ukrainian Eggs.  Once you're into a design, the movements and motions, the wax on the egg or the pen on the paper, creates a zen-like mode of progress.  I'm not sure what Zentangle and Ukrainian Eggs have in common that is so different from just coloring, but it matters to me.  I can easily get lost in both for hours.  It's better than meditation, or maybe it's just my form of meditation.  Maybe it's the feeling of creating something, maybe is the structure of the patterns.  Maybe it is the manageable size.  Eggs are small.  Zentangle squares are small, at least when you start.  The Personal Euphoria team enjoyed it, although one of our instructors mentioned that she prefers coloring.  Coloring versus Zentangle might appeal to different people as a form of relaxation and unwinding.
Drawing my lines and shaded my shapes, reminded me of hiking through the Grand Canyon.  Along the path, I came across a women who had a small journal and little inks she hiked with.  She didn't write about her travels, she sketched a section of the trail.  I remember being impressed, both that she was willing to add weight to her pack and that she could create these drawn memories.  Zentangle made me feel like maybe someday I have a shot at being that person.
After our lesson, I spent all my free time during the weekend Zentangling until I was out of cards.  This was a great way to spend time with friends and decompress.  I highly recommend Janet and Zentangle for a nice get-together with friends.   Plus, it totally beats adult color until those book actually do involve creating your own dirty doodles.
Here's a time lapse video of me making a Ukrainian egg.