Last summer I read the China Study and tried the recommended no animal protein diet for a month.

As a 28-day vegan my HDL and LDL both dropped considerably, but my body didn't feel good.

I was bloated and uncomfortable the whole month.

I don't think veganism was meant for me, but I like the idea of eating and incorporating more whole foods into my diet.

And I like that someone was doing research that empowered people and provided a potential choice over some medications for certain problems.

Can diet really cure our health problems in this country?

The answer isn't easy.

It depends on the problem and the person.
I think generally each person has to find a diet and lifestyle that works for them.

Obviously if you have health issues you may need to make more ardent changes, but if you are healthy you can sometime get away with a little more flexibility.

Some people might do very well on a […]
Forks Over Knives
Maggie Downie
2017-09-12T19:31:29-04:00
We were Vegan for one month after reading the China Study, which claimed that eating animal protein was bad for your health. We wanted to see if some of the claims made in the book were accurate. We had blood work drawn a couple days before we started and drawn at the end of the month. Our results just arrived and here they are:
Maggie
Non Vegan Vegan
Glucose 72 76

Protein 6.6 6.6

Cholesterol 183 143

HDL 61 47

LDL 105 88

HDL Ratio 3.0 3.0
Matt
Non Vegan Vegan
Glucose 82 87

Protein 6.7 6.9

Cholesterol 176 145

HDL 65 67

LDL 91 67

HDL Ratio 2.7 2.2
In both cases we were within healthy ranges. Our bad cholesterol (LDL's) both dropped, but I was surprised to see that my good cholesterol also dropped. Maybe that's why I was craving eggs constantly.
Not being someone who has a problem with cholesterol or heart disease (as far as I know), the vegan diet would be very hard for me to stick with. However now that I've done it for one month I am curious to know if I continued with […]
Vegan Diet–The Results Are In!
Maggie Downie
2014-08-04T18:02:41-04:00
No, I still don't have my test results back (total bummer), so we are going to need another vegan update (hopefully next week), but the experiment still lingers in the back of my mind. I think about it when I make my food choices. I now add more vegetables when I order something or plan our meals (although I could still probably use more). Please don't assume I'm always healthy because I teach pilates. I could happily eat a bowl of pasta with Ragu for one or two meals a day. It's easy and, what can I say, I like my carbs.
I think about my vegan month when I overeat because I never wanted to overeat on the vegan diet. For me the vegan diet made portion control a piece of cake. Even when the food was good, it was never so good that I […]
Vegan Strikes Again
Maggie Downie
2017-09-12T19:31:47-04:00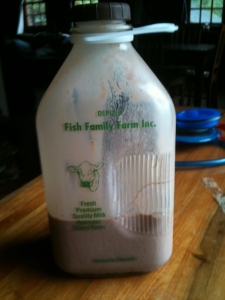 When I was vegan for a month I craved three things constantly: avocado (which I could have so it wasn't a problem), eggs, and chocolate milk from
Fish Family Farm in Bolton
. I have only had chocolate milk from the Fish farm once, but I couldn't get it out of my head.
The first Monday I was free to eat as I pleased, I took the 25-minute drive to Bolton to get my chocolate milk, and there was none. Apparently they make their milk on Monday and don't guarantee to have it ready until after 2pm. I couldn't believe it.
So the next Monday I made time again (not a really easy task because I'm pretty busy). I pushed off some paperwork I should have been doing to go get this chocolate milk. I'd clearly become obsessed. This time I went with friends and told them my story, and said I hoped they had the milk this time. We were getting there around 4:30pm, so I was now afraid they would have run out.



Must Have Chocolate Milk
Maggie Downie
2017-09-12T19:31:48-04:00
Uh oh. I stopped being vegan and milk doesn't taste good anymore. I never liked milk enough to drink it plain, but I liked it on cereal. Now when I put it on cereal it just tastes really funny. I never liked any of the non-milks I tried while vegan, so I'm sort of at a loss.
I think I'm just going to have to learn to like milk again or stop eating cereal. Maybe it will pass. I seem to really be able to taste dairy in foods. Baked goods that I ate all the time really taste buttery to me now. I don't mind. I appreciate that I can really enjoy some of the flavors that I didn't really notice or think about before. A double edged sword from my vegan experiement.
Lost My Taste for Milk
Maggie Downie
2014-08-04T18:02:42-04:00