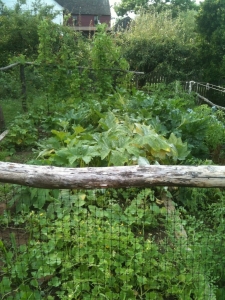 My first heirloom garden has been a learning experience.

And while I do think I'm learning, some days, I feel like no matter what I learn, it won't matter.

I can't help but think that if the weather next year isn't identical to the weather this year, I'm hosed.
Still, I'm moving forward with this in mind.

Everything I planted this year is right on top of each other.

So nothing has room to spread out, thrive, and get proper sun.

I think that is hurting all my veggies a bit.
Next year, I'll plant less.

If every seed I plant sprouts, I will pull out the weaker links to give more room to the healthy plants.

I'll consider using slightly different types of soil for different plants.

I Can't Control the Weather: An Over Grown Garden

Maggie Downie

2017-09-12T19:31:28-04:00

Once the garden starts producing it doesn't seem to stop. (Although I'm still waiting on my tomatoes). I was able to incorporate food from my yard in every meal one day. How lucky is that?

Blueberries on my breakfast cereal.

Summer squash and lettuce.

More salad with green and yellow beans. Yum!

Garden Bliss

Maggie Downie

2017-09-12T19:31:29-04:00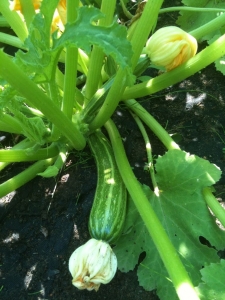 Zucchini's are coming up in my garden.

I found them this weekend when I was weeding (and it made the weeding totally worthwhile—never thought I'd say that).

But here's the thing…I don't know what to do.

I don't know when to pick them.

How do I know when they are done?

How do I know when they will taste the best?

I want to beat the bugs to them.
Seeing them was a complete surprise—a moment of the more we learn, the less we know.

For one, now that I know I have zucchini's I realized I'm filled with questions, but also I didn't realize prior to seeing them that I did not know how or where […]
Pick My Lunch
Maggie Downie
2017-09-12T19:31:30-04:00
So last summer my cousin helped me (by which I mean my cousin did almost all the work) build me a two tiered garden.

And now this spring I want to plant, plant, plant.

My goal is to do an entire garden of heirloom vegetables, but I don't have a green thumb so I'm a tad nervous.

I am open to any and all advice.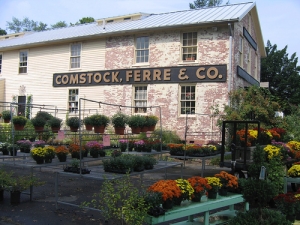 I went into Comstock Ferre in Old Wethersfield today.

They are the oldest seed company in the country.

There packages of seeds look like art.

It's really a beautiful place.

I highly recommend you stop by some time, especially if you like to garden, like antiques, or unique artisan crafts.

I bought a book on heirloom gardening that I can't wait to read.

I plan to […]
Comstock Ferre–Heirloom Garden
Maggie Downie
2017-09-12T19:31:36-04:00

I thought it might be fun to take our own informal poll of Connecticut's Best places to do certain outdoor, fun, summer activities. So do you have a best place in Connecticut (or if you're not from CT feel free to participate with your state) for any of the following:
1) Best Place to Walk
2) Best Place to Bike
3) Best Place to Hike
4) Best Place to Swim
5) Best Beach
6) Best Park
7) Best Garden
Here are my answers:
1) Old Wethersfield–Main Street, Hartford Ave, Around the Green and the Cove
2) Don't Know–not a biker
3) Devil's Hopyard
4) Waterford Beach (if you are scared of waves they don't have any)
5) Probably haven't been to enough in CT to say for sure
6) Harkness Memorial Park
7) Elizabeth Park Rose Garden
Best In Connecticut
Maggie Downie
2017-09-12T19:31:52-04:00