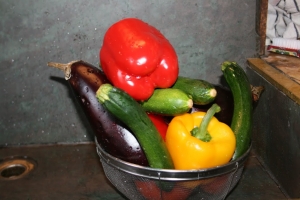 I made my first ratatouille this week. As far as I could tell if, when you are buying all the ingredients, if you don't purchase a bouquet garni because you don't know what it is than ratatouille is basically sautéed vegetables—not the end of the world, but really nothing special.
Although such a colorful array of veggies, seems like it has to be good, especially during the winter.
When I realized I was lacking what turned out the be the most important ingredient, I looked online and found that it's really just a bundle of spices you cook the veggies with and then remove at the end. So I just added Wikipedia's recommended spices for a bouquet garni and never removed them. My spices weren't fresh, but I figured it was better than nothing.
My cookbook had a photograph of the veggies still looking quite firm at the end, but called for them to simmer for 50-plus minutes. I don't know how you cook anything that long and not have it turn to mush, which my veggies […]
Ratatouille
Maggie Downie
2017-09-12T19:32:00-04:00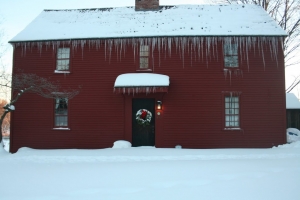 I usually grocery shop on Tuesdays. So last week when Matt and I made a list on Monday night, knowing that an impending storm was coming, he suggested I get some good snow-day food. "Good idea," I said, "except I'm now on a healthy lifestyle." I didn't want to add a bunch of junk food to the list. And I'm pretty sure that is what good snow-day food is.
I added cider to the list for Matt and whole milk to the list for me so that I could make some good hot chocolate. I never drink whole milk except with hot chocolate, which I make from Dutch cocoa and sugar.
But then when I got the grocery store I kept seeing foods—dark chocolate covered marshmallows, cakes and pastries, cheesy quiches, scones, and breads—that would make good snow-day treats. Matt and I had already agreed that lunch would be grilled cheese with tomato and tomato soup. So there I was in the middle of the grocery store wanting all these good foods and being frustrated by my […]
Snow Day Food
Maggie Downie
2017-09-12T19:32:01-04:00
One of the changes I've been trying to make this New Year is to vary my diet. I often eat the same foods. It's a lot easier and cheaper.
Last week I think I had pretty good success with this. My breakfasts were similar. I think I had toast with peanut butter each day, but the side varied–one day a pomegranate, one day eggs, one day a grapefruit.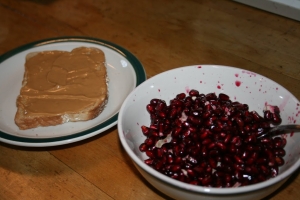 But my favorite part of the variety was that I decided to try and make something I'd never made before. It has been a long time since I've hunted through my cookbooks to make something new. I really enjoy experimenting, so it made me happy to have made time for it. I made string beans with an almond butter, ginger dressing and spinach, ricotta lattice pie.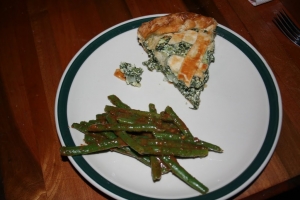 I really enjoyed making dinner and couldn't wait to try it. I was a little disappointed when the spinach pie tasted like nothing, but the […]
Varied Diet
Maggie Downie
2017-09-12T19:32:01-04:00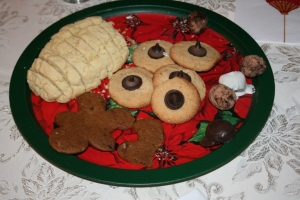 Okay, so when I stepped on the scale the first Monday after New Year's I decided we clearly need to eat Christmas cookies all year round. Here is my warped thinking…
It was only fair that I gained four pounds this Christmas (so long two pounds that I'd lost since starting my healthy lifestyle) because I spent most of the days eating. I ate so much and was full a great deal of the time. This is unfortunate because it never feels good to be full. Once I'm full I'm always frustrated.
But here is the thing, at Christmas there are so many foods–cookies, breads, creamy onions, stuffing, egg nog, pomegranates–that we only get to eat once a year during a very short window. In addition to these food there are foods we see rarely–homemade apple and blueberry pie, turkey and gravy, homemade chocolate pudding–that we just have to have a taste of them too. I found myself eating more of something because I had the thought, well, I'm not going to get this again until next year. So […]
Christmas Cookies all Year
Maggie Downie
2017-09-12T19:32:01-04:00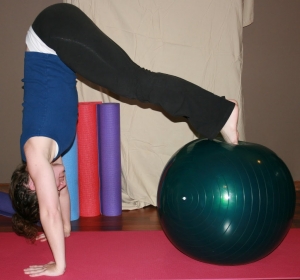 And somedays it all seems to come easily…
Monday, December 06, 2010
Feel great! Up again at 4:30ish, which I'm not thrilled about, but feel like I got a decent sleep. It helps that I took a nice hot bath and popped a melatonin before getting into bed, but I don't know if the melatonin actually helped me much last night because I actually woke up a few times.
A hot bath is a vital part of a healthy lifestyle for me. Feels good on my body and mind and the relaxation is a must if I have any chance of maintaining my sanity.
This morning I did an hour pilates ball workout for myself—not too hard, but felt good. Tried working on a lot of different exercises I'd like to add to some classes. Then did a 20-min basic Tae Bo. Feel fabulous. I love workouts on days like this. I wish I knew what made my body feel so good.
Friday, December 10, 2010
Walked at the gym for 30 minutes […]
Good Days
Maggie Downie
2017-10-25T15:49:56-04:00