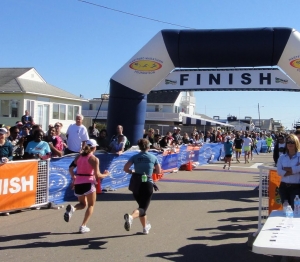 So I signed up for Surftown again this year. It's a pretty flat course that runs through Misquamicut Beach and Watch Hill, Rhode Island. Running past the homes and landscaping can keep you entertained for 13.1 miles.
I was nervous going into this race.

I hadn't trained as well as I did last year.

Last year I'd run over 12 miles before the big day and I did weekly sprint workouts.

This year there have been no sprits for me, and I'd only run ten miles once prior.

I'd made other attempts, but at mile eight my knee and hip would start bothering me and I'd have to stop and walk or walk/run the rest.

Pilates and massage have been getting me through.
I was positive I'd need to stop and walk the end.

Two days before the race, I went out for a five mile run and had to stop at 3.5 miles.

I was exhausted, not sore or in pain; I just couldn't keep going.

I walked a bit and then started up again, but it was very disheartening.
The day before the race, I took off from exercise and just hydrated and tried to eat well.

Of course, it's nearly impossible for me to sleep well before a race—a combination of nerves and excitement.
Race morning came.

It was a cool but beautiful morning and the weather and temperature were perfect.

I felt great.

I had to slow myself down in the beginning so that I'd have something left for the end.

At mile eight I felt fantastic—no knee or hip pain.

I was cruising through the race. (For me a 9-min, 30-sec mile is cruising.)

I still felt pretty good at ten although I was starting to get tired.

The last mile was tough, but I knew I could do it.

Really, I'd say my body felt great through the race and the time seemed to fly by.
When I was done instead of feeling muscle sore, I felt exhausted.

I slept for a couple of hours and then felt pretty much okay by the mid afternoon.

My race time was identically to what I'd run the previous year with considerable better training and fewer injuries.
It's just another way the body seems to surprise me.

I don't know how professional runners and racers do it.

I feel like I just have good running days and bad running days and no real control over which is which on any given morning.
I think hydration is huge.

And for me having someone to distract me has become important.

I ran this race with one of my running comrades, Michelle.

I found her around mile three.

She'd run 22-miles the day before.

Maybe I was just too impressed by her to feel pain.
(Picture Above: I'm in the blue shirt about to cross the finish.)