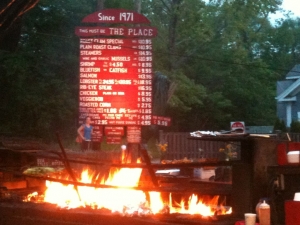 For seven years I have wanted to get to The Place in Guildford, Connecticut. I can't say exactly why it appealed to me so much, perhaps the simplicity of it. It is an outdoor restaurant where the seats are tree stumps; the menu is a large, wooden sign; and they serve about 20 different grilled options.
The other night Matt and I met my mom, stepdad, and stepbrother there. I got corn, mussels and clams.

And we brought our own drinks and salads to compliment the meal. It was a perfect night and the rain the weathermen had been predicting held off.

It made the seven year wait totally worth it.

It's always nice to have plans come through—even the little ones.

The entire evening was wonderful.