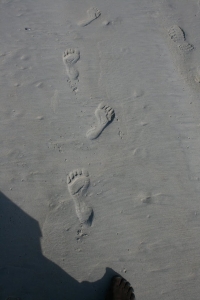 So they suggest building up slowly. I walk around barefoot a lot and they felt so comfortable that I think I might have gotten a little cocky. I took a two-mile walk around Wethersfield in them and all was good. That seemed to motivate me.
So last weekend when Matt and I went to Ogunquit, Maine, I went on a five mile walk. We walked to the beach, across the beach (where I discovered that Vibram Five Fingers leave the most awesome footprints because it looked like my bare feet had designs on them), back to the road, along the cliff walk, and back along the road. Three miles was my peak. After that I was in agony. My toes were really cramping—maybe it was the colder weather, but my feet didn't feel that cold in them, so I think it was the walking.
We stopped for lunch and I thought the break would make it all okay, but it didn't. My toes cramped immediately when we starting up again and only got worse. The balls of my feet started hurting and I had to stop for frequent breaks. My left foot hurt worse than my right, which surprised me but I found that interesting because it implies that I have a different gait on each leg.
Even with the pain when we got back up to the road and I could actually feel the leaves on my feet, I was back to being happy with my new shoes even though I was still in pain. The next day I opted for some comfy, winter boots.
To be continued…