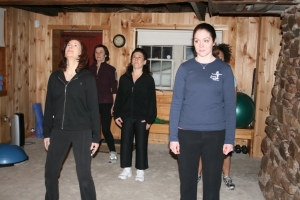 This fall we are adding some new classes to our roster. I'm very excited.
20/20 FUNKtion is a class created by Susan and Donna, two of Personal Euphoria's instructors. Five years ago we went to lunch and talked about working together to create a new movement/workout modality. It took some time but 20/20 FUNKtion has finally evolved out of a conversation that was really just a dream at the time. The class is a great blend of dance and resistance training that Susan and Donna make so much fun. When I take the class I cannot help but smile. I'm not a great dancer, but the music is so much fun and the moves are basic enough that you can just relax, have fun and move the body at the same time. Even last night I took a video of Susan and Donna doing some of the dances and I was smiling from behind the camera. It is a blast! Check out our schedule to see if your town is offering 20/20 FUNKtion.
Deb O'Leary has joined our team with a class she created called Interval Training Cardio. Deb and I have been working out together for a few years. I took her Interval Training Cardio class this winter. The class was awesome. It was really intense training that can be modified. I modified for my knees, which tend to bother me easily. You get such a great full body workout and it goes by so fast! I knew we had to bring Interval Training Cardio to our clients when I realized how strong I came out of the winter. This spring and summer I've hiked (like Mt. Washington scale hiking) and been training for a marathon (running over ten miles multiple times) and I haven't had muscle soreness from either. On top of that what has impressed me the most of all is that my knees, which normally ache after a hike and kill when I'm running regularly, feel great (knock on wood). I think this strength and joint stability comes from cross training—taking Deb's class, pilates and getting in a pool—but I think a real difference was made by all the plyometrics drills in Deb's class. And for the first time ever, I'm running faster—not fast yet, but faster.
I'm excited for both classes. And I think you'll love them. Try it all. Most of our towns except non-residents, so if you're in a nearby town call to see if you can join one of our classes in a neighbor town. And hopefully before long we'll be offering these classes in all our towns.