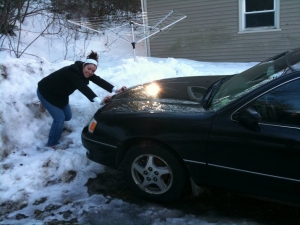 Recently, Katy, who teaches for Personal Euphoria in Wethersfield, told me a story about getting stuck. She'd just taken a pilates class and got in her car, but her car was stuck on the ice. There were few people around and Katy decided she should put the car in neutral and push it off the ice.
At this point in the story, I wanted to laugh. I knew where it was going, I'd been there. She pushed and pushed and couldn't get the car to budge. A woman walked by and instead of offering to help, chuckled and said, "Gee that happened to me last week and I found a group of young men to help me get it out." Katy was frustrated. 1) There were no young men around and 2) She wanted to be able to push it out herself. Whoever that other woman was she clearly didn't understand, which was probably why she didn't offer to help.
I have found in life that this is sometimes the curse of the strong (physically and mentally) woman. You so want to be able to take care of yourself that when you feel like you can't, you get frustrated (at times to the point of tears, which always makes me feel even less strong). In the end, Katy got out of the ice by rocking the car back and forth from the inside, switching from forward to reverse. She was plenty capable.
But I know what she was feeling at the moment she realized she wasn't going to be able to push the car off the ice. I pride myself on being strong, and when I've tried to do things that I can't seem to do (including push the occasional car somewhere) it has made me feel very weak, especially if I assume that if a man were around he'd be able to do it. It's nothing against men, but I want to be able to do it to.
I don't really have an answer. I don't really know if I have much of a point today. I just wonder, what is it about those of us women who pride ourselves so much on being strong that at times our pride gets in the way? Time and time again, when something like this happens to me, if I can calm down and stop being so worried that I'm not as strong as I think, I think rationally enough to get inside the car and find another way around the problem like Katy did. Or I can go somewhere and ask for help, even if that means asking a man who might be stronger than me. I guess sometimes being strong is knowing your limits, and being smart is finding another way to solve your problem.
So what is it? What makes being physically strong so important to some women, myself included?