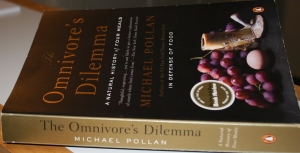 I finally finished the Omnivore's Dilemma. Loved it. Although the last chapter waned a little philosophical for my taste, I'd recommend this book. And if you're not a reader then I'd recommend the movie
Food, Inc.
What I loved about both is that they don't fear monger (although the trailer in the link above makes it look like the movie does). Instead they educate, and in the book Pollan asks very important questions even of himself and his own beliefs.
But now the real question is will I change any of my food choices. I sure want to. Pollan doesn't ask you to make any changes, but if you read the book and don't come away thinking about potential change, I'd venture to say you're not human.
I've already made some changes and in our society it can be hard. A few months back in an attempt to cut back on processed food, I stopped buying cereal. But then I ate more eggs and oatmeal—oatmeal that is process and comes out of a box.
But here is one of my dilemmas after reading the book. I really only want to eat meat that is grass fed and has no antibiotics. I was a vegetarian for about five years because I was concerned with meat in antibiotics. I am not concerned with eating animals, especially not in moderation. Quite frankly, if the animals are healthy and natural, I think our bodies require the nutrients we get from meat. I think meat is good for us.
When Whole Foods opened in West Hartford, I began eating meat again. But there is a problem. Meat is good. And once I had a taste I didn't discriminate. When I go out to eat now, I order meat, and it's pretty unlikely that the meat is grass fed and antibiotic-free. Also, when I go to people's homes I eat meat. I don't know how to tell someone that I eat my meat, but the meat they buy isn't good enough for me. But in truth, I really don't think its good enough for any of us.
And then in reading the Omnivore's Dilemma I learned that most of Whole Food's meat, while antibiotic free, is not grass fed. I was stunned. How could I miss this? They don't really try to hide it. The next time I went to the butcher at Whole Foods I looked, and I'd guess about one-fifth of the meat sold at the butcher is grass fed. I was really disappointed, especially since it turns out there are potentially huge repercussions for humans and cows that are fed a corn diet. (I really recommend you read the book for more information.)
What's a girl to do? The book made me never want to eat a pig if I didn't know where it comes from. I really like pigs. They are certainly my favorite meat to consume, and I've kind of always wanted a pet pig. I know those two thoughts probably shouldn't go together, but I think I have some sort of Charlotte's Web Complex. Still, I've eaten pig since I finished the book. I haven't changed anything. And why not? For moral reasons and health reasons, I should be very picky about my food. Why is it so hard to change even when the change seems so obviously beneficial?
But I'm going to try one of these Connecticut farms that according to this site don't use antibiotics, but do feed their animals grass. Has anyone ever been to one? Any recommendations locally?