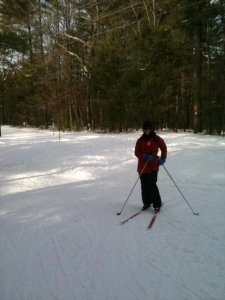 I can't spend three hours on an elliptical machine, but I can cross country ski for three hours without feeling like a minute has gone by. Last weekend I went skiing with some friends. I am a newbie. I went for the first time two years ago and didn't get to go at all last winter. So this was my third time skiing and my first time out in two years. I didn't fall once, but I didn't always stay on the path either.
I don't seem to be very good at turning. And, it turns out, if you aren't very good at turning and you are going down a hill that turns, you will wind up off the path. But as long as you can laugh at yourself it's all okay. Having supportive friends helps too.
After three hours I was starting to get tired. I figured I was going to be really sore the next day. The first time I ever went cross country skiing my inner thighs were really sore. I loved it because I felt like I'd never really felt those muscles get worked so well. You know that feeling that you've just discovered a whole new muscle in your body because something very specific is sore? My sadistic side likes that.
So when I never got sore, I was a little disappointed, but it made me wonder: perhaps, I'm in better shape than I realized. Again—it's so hard to judge your health and wellness.
If you like being outside and feel cooped up in the winter, I'd jump at the chance to cross country ski. If you live in Connecticut, Winding Trails in Farmington is a great place to go and you can rent everything you need. We saw deer along the trail. They checked us out as much as we stared doe-eyed at them. One even bounded by, thundering through the snow. It was marvelous and you just can't get that on a treadmill.