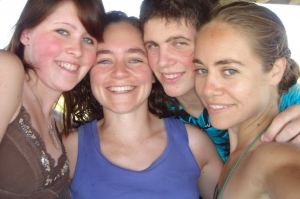 I love Thanksgiving, but I am
especially
excited about it this year for some reason. My stepmother makes the best Thanksgiving dinner, and I can't wait to eat it. She is a saint because she makes it exactly like my Dad wants it following his grandmother's recipe to a tee.
Even more than dinner this year, I'm looking forward to seeing my family. We normally get together weekly for dinner, but now my younger siblings have moved away, and we postponed our weekly family dinners during the fall. So it will be so nice to have everyone together.
And in honor of the holiday, I'm willing to be cheesy and list of some things that I am thankful for. Do you have anything you are thankful for today?
My family
Matt
My friends
My health
My home (and my first Thanksgiving in it)
My clients who make my job fun every day
The instructors who work with me who make my job easy every day
All the little

conveniences

(like

refrigeration

, my dishwasher, and having 20 grocery stores to choose from within a five mile radius)
Homemade stuffing
Time
That I just get to enjoy the day because it isn't my responsibility to cook an entire meal.