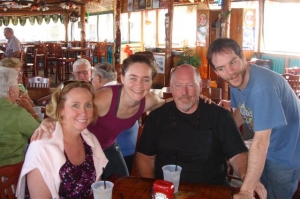 When I was in Florida training under Lolita San Miguel my cousins offered to let us stay with them. This was a not only a nice cost savings, but gave us the opportunity to visit for a whole weekend. My cousin Karen is also my Godmother. Since she has moved to Florida we only see each other about once a year and we call each other for birthdays.
Spending a weekend with Karen really impressed me. She is a person who seems comfortable in her own skin. She recognizes her flaws–she broke two glass objects while I was there and thus sees herself as a bit of a klutz–and kiddingly even teases herself about them, but in addition to recognizing her "flaws" she is also comfortable admitting her strengths and is proud of her interests–she has quite a green thumb, although she claims growing a banana tree isn't a hard task in the sunshine state.
She is a wonderful story teller. She would tell me about people I didn't know and daily occurrences, and I found myself fascinated by the most simple tale. But what I found the most appealing about a weekend with Karen was her laugh. It is contagious. She laughs loud and often. She finds life funny. She finds others funny. She finds herself funny.
Laughing works the core and makes you feel good. It's important to have a hearty laugh every day, but sometimes life isn't that funny or more accurately we don't always find the humor in it. With Karen around I think I would never miss a day of laughter and to me that makes her a pretty impressive friend, relative, woman, person, and God Mother.
Have you had a good laugh today?