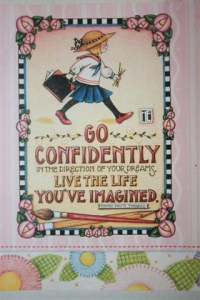 Before the first day of 2009, go around your house and place your fitness goals in places you will often see them. Let them be reminders for you throughout the year. You can cut goals out of magazines or type up your own goals on the computer.
Put one on your bathroom mirror, another on your refrigerator, one over the stove, another one near the television. Use images if they inspire you more than words.
You want to be reminded all the time about what your dreams and goals are for the coming year. You can do this geared toward fitness or towards a career path or a creative desire.
Post messages that are positive reminders. For example, instead of posting a message on your refrigerator that says, "Lose Weight," write something that says, "Make Healthy Eating Choices a Habit."
We all need a little help and a reminder to be healthy. This is just one way to try and help yourself. Make sure the post-it notes are a decent size and don't get covered over by other papers our pictures that will distract you from your goal.