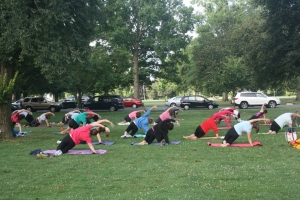 I always love our mini outdoor session of Pilates.

I'll admit I'm a sucker for Old Wethersfield—a spectacular place to spend time.

This year so far we've had a great turn out.

Thanks to everyone who has made it so far.

Remember—we have one more class this Saturday.

Hope we get to meet you there.
Wethersfield Broad Street Green (CT)
8-8:45am
Bring a mat, hat, sunglasses, and water
And consider saving time for a walk afterward or breakfast at Aroma Bistro.

Or come back for lunch at Lucky Louie's followed by ice cream at the Wethersfield Creamery.

The Cove Deli it also a great place for sandwiches and salads, all of which have fun names.