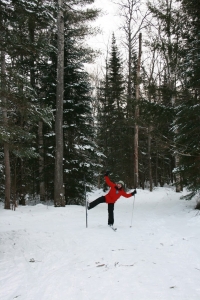 So my final challenge was supposed to involve cross country skiing. I was hoping to get some practice in before finding a race to participate in, but unlike last year at this time we have no snow. And this weekend a 10-mile cross country tour I was going to take got cancelled in Vermont because of lack of snow. In February I'm going to New Hampshire for a
Chocolate Festival
where you ski from inn to inn to pick up chocolate, but I'm not sure that is going to count as a challenge. (Although, I could consider the chocolate as energy to get me through the next leg of the trek like goo on a marathon.) So I'm still searching for one final challenge that I need to complete and prepare for before March 27th.
While I'm at the chocolate festival some of my running buddies are going to run a half marathon, but I'll be too busy eating chocolate.
Anyone out there have any good ideas of something I can do in New England in the winter that would be a good physical challenge? I'd rather it not involve running as two of my challenges already did.