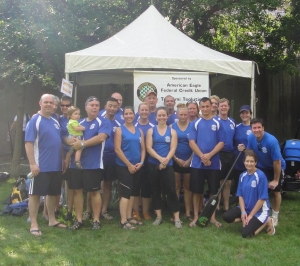 Dragon Boat is officially over for the season. This is my first Tuesday without practice since mid June. I'm going to miss it. Last week we saw a bald eagle twice. It flew over our heads letting us know it wanted us to get out of its hunting ground. Last week the weather was perfect and it was a fabulous way to end the season. On Tuesday there was steam coming up off the water in mini spirals that looked like small tornados. It was a beautiful. I wish I had a camera.
One of the staff from Riverfront Recapture (who organizes the race and lets us use a boat for practice) reminded us that while some people were starting their day tense, gripping the steering wheel while driving to work, we were calm and out on the water enjoying nature. I love starting Tuesdays and Thursdays with Dragon Boat all summer.
You can't beat it. It was a fun season. It helps that we raced so well in Hartford. We came in second place, .03 seconds behind the first team. It was an intense race, but we all paddled so well.
I'll miss "paddles up"—the term used to let everyone know to get ready to paddle—until June 2012. Till then, I'll be "sitting ready."