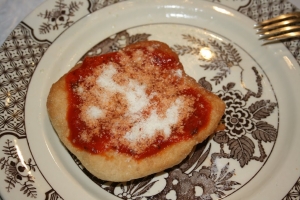 I'm about to turn thirty and my official challenge of getting in the best shape of my life will be on full force. I'm completely confident I can do all my physical challenges (provided I don't get hurt), but eating well is a little harder for me. I get three birthday meals and this is what I have selected:
1) Ham and Mac and Cheese
2) Fried Dough
3) French Fries (there will be other food there, but I really would be happy if there were only French fries)
And this doesn't even mention the desserts that come after each meal. I know eating healthy isn't about deprivation, but that's what has always worked for me since I'm just not great at the whole moderation thing in anything I do. It is easier for me not to eat dessert for a month than to have a little dessert every day. I'm better at saying "no" than "a little."
So any tips because by this time next week, I'll be thirty and the challenge is on.