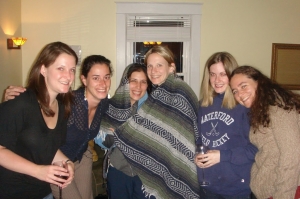 On New Year's day a group of girlfriends came over. One of them mentioned that she wanted to start going to the gym this year, not because she wanted to lose weight, but because she wanted to feel better and she hadn't been exercising.
I thought that was a really important reminder. Feeling good should be the reason why we take care of ourselves. A weight reduction should be a pleasant side effect, but so often it is the other way around. Since I've set a goal to be 130 pounds, I realize there is a level to which the weight is occupying my mind more than whether or not I feel good.
Every Monday morning when I weigh myself, even on weeks when I feel really good, I'm hoping for a particular number. If I ate really well and exercised daily, but my weight went up, because, let's face it, we can fluctuate a few pounds from one hour to the next just by going to the bathroom, I'd be disappointed. My first thought probably wouldn't be, oh well, I think I feel good this week and that is what matters. But it should be, as long as I'm being honest with myself about how I ate.
Heck, pounds are sort of arbitrary. I'd only be 9.6 stones if I lived in England.