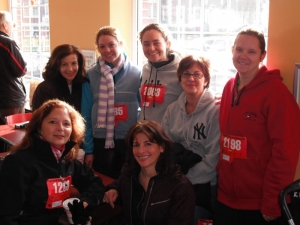 So, yes, I ran a marathon before I ran a 5K, but that was almost five years ago now and I haven't done another race since. So last Sunday I signed up with some of our instructors, friends, and clients to participate in the West Hartford Mitten Run.
It was so much fun. The best thing about running in a race is having the streets blocked off so that you can run through them. I find that I feel really important for the 30-minutes I am running on roads that no one can drive on–and I love it.
A 5K is a lot more fun and a lot less intense than a marathon, and I would definitely do it again. It was a blast to have people with glowing red noses and Christmas music playing. Everyone seemed happy and in the holiday spirit, although we were all pretty cold. My typical run nowadays is about 3 miles (almost a 5K) and I can say with certainty that running with 1,800 other people and music is a lot more fun than getting up and running by yourself.
The only thing I missed were people cheering on the side of the road. While there were some, there were not nearly as many as attend and cheer on the runners in the Hartford Marathon. You don't really need the encouragement in a 5K, but it sure is nice.