I like to spend my Labor Day weekends in New Hampshire hiking. Usually this means a trip up Mount Washington, but this year I decided that as much as I love Mt. Washington, I really don't want a parking lot at the top of the Mountain when I finish.
If the weather is good and all goes well, today I'll be finishing up some new and different hikes in New Hampshire to tell you about later in this blog.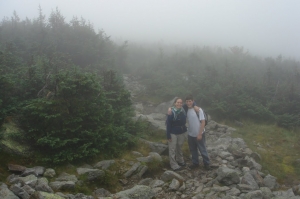 The past couple years my brother, Will, has joined me up Mt. Washington. He's off to college this year and can't come, but I'll be thinking about him during the hike.
I find hiking not only to be a good workout, but to be a fun excursion into nature. In New Hampshire you can see fabulous views (when the weather is clear). The air is cool and clean. In some stretches you can find yourself (and your fellow hikers) all alone in the wilderness. There is so much space this can even happen on Labor Day weekend. I look forward to it every year. It's good for my body (except maybe my knees) and good for my spirit.