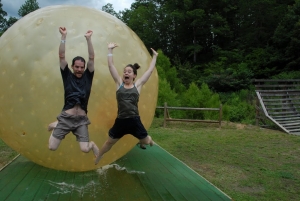 The closest place to Connecticut that you can Zorb is Pigeon Forge, TN, but it is well worth the trip.
Zorbing
was like going on the best water slide I've ever been on. Basically, you roll down a hill in a giant hamster ball. You can do this loose in water where you slosh around (awesome) or strapped in where you roll head over heels (not up my alley).
It's an expensive water slide ride, but it really was a fun ride. If you go, I recommend the ride in water with a friend. It's cheaper and the staff said it's more fun to go down with someone. I would agree, plus that seemed to be the general consensus of everyone who took the ride while we were there.
Pigeon Forge was a great vacation spot. It has really touristy places and 20-minutes away are the Great Smoky Mountains. There is definitely something for everyone.