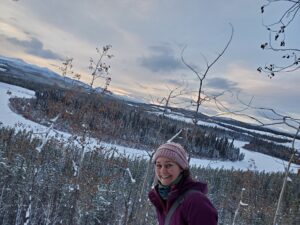 I saw an image of frozen hair styled like a Dr. Seuss character. After following a trail of links I discovered the Crazy Frozen Hair Contest in Whitehorse, Canada.
Obviously, I wanted to participate. Who wouldn't?  But Whitehorse is fairly far from Connecticut so for seven years I convinced myself not to go because with layovers it was about 15 hours of travel and in the dead of winter snow was likely to get in the way.
Then this year, I said, "no excuses."  We made plans and booked a trip to Whitehorse breaking up the travel with three days in Vancouver on the way out.
Crazy Frozen Hair
For hair to freeze you need -20C or lower (that's -5F). At Takhini Hot Springs where this event is held annually you dunk your head in the hot spring and then leave your head above water while trying to freeze your hair without getting frostbite on your ears.
According to staff at Takhini at -20 it should take 45-minutes, at -40 (where Celsius and Fahrenheit meet on the scale) 20-minutes. From Vancouver I watched the forecast. While we were in Vancouver it was -35 or colder in Whitehorse […]