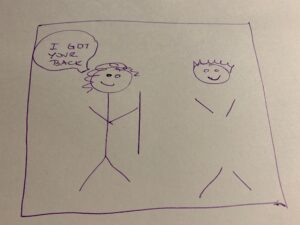 Sciatica can be a pain in the buttocks —literally and figuratively.  The sciatic nerve runs out multiple vertebra in the lower back and down both sides of your legs passing through the glutes (butt muscles).  The compression and inflammation of the nerve at the spine can cause the pain in the glute and down the entire leg.  In addition sometimes one of the muscles in your butt called the pyriformis can be adding to the pain.  If you do the four stretch and you feel relief, you might have pyriformis syndrome.
How to do the Four Stretch:
Note: You can do both sides, but the side with the pain should get relief when crossed over.
Sit down on a firm chair.
Cross the leg with pain over the leg without so that the ankle rests just above the opposite knee
Sit up Tall.
Stay for 3-5 deep breaths.
Relax and Repeat Up to 5 times.
OPTIONAL: Hinge (do not round) forward slightly for […]