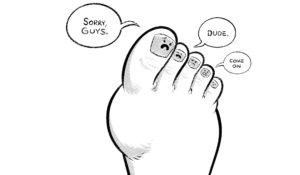 Ouch!  Looking for some bunion pain relief?  A bunion is a deformation of the big toe joint.  If you've got one, you'll notice a boney protrusion at the base of your big to and your big toe will point in squishing all your littler toes.  Genetics and footwear can lead to or worsen bunions, which are more common in women. 
Aside: If you develop a bunion at your pinkie toe, it's called a bunionette, which sounds SOOO much cuter than a bunion. 
Finding Relief
Ditch the Heels Ladies (and men):
Nearly every pair of shoes you purchase (unless they are minimalist shoes) has a slight or drastic heel lift.  The higher the heel lift, the more pressure on that bunion.  So stick to shoes with a lower heel.  Often men's shoes have a slight heal lift too. 
Traction
I have a bunion, and I find relief when I gently pull on my big toe trying to create a little space between the toe and foot.  It […]