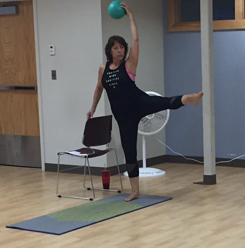 Janice teaching barre in Glastonbury.
"Do what your body can do today," Janice Flanigan calls out as my leg lifts for what feels like the millionth time and every muscle holding me up starts to burn. I'm at a Total Barre class in Glastonbury which Janice loves to teach because of its focus on the core, hips and legs. By the time 45 minutes have gone by I've gotten a full body workout, and I happily relax into our cool down.
Janice has been teaching many different types of classes for over 20 years. You can find her teaching Total Barre, Pilates Plus Strength, Interval Training Cardio, Low Impact Cardio-Strength and Kickboxing this fall with Personal Euphoria. Each class offers a different challenge for her clients.  Janice says:
I love Pilates because of its precision.  I love Yogalates because we get the best of both worlds with the spirituality and strengthening and stretching of Yoga and the critical core strength of Pilates.  
A class that is particularly special is her weekly boxing class held at the Enfield Senior Center. The class is a combination of boxing and functional interval training, […]