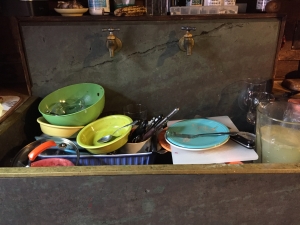 Mundane tasks like dishes can be a time to be present.
I need to listen to what I'm about to say more than most. But as 2016 approaches, and we start thinking about New Year's Resolutions, I'm trying to come up with little changes I can make that serve the purpose of meditation (help me chill out), but don't require me to sit and be still for more than 30-seconds.  Because every New Year I fail at that.
Stop at Yellow Lights
I've always lived by the moto: red means stop, green means go, yellow means go faster. I also have a tendency for road rage.  Driving calmer and trying to get less frustrated has helped me hate driving a little less.  This is actual the idea of one of my clients who used to work with patients post heart-attacks. It was one of her tricks to help them de-stress.
Pick the Longer Line
This idea was from the same client, and I love it. So much of life is a mind game.  If you pick the longer line at a store, it doesn't seem […]