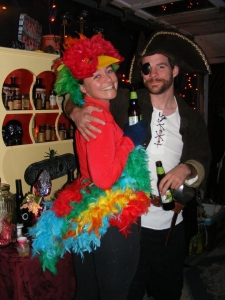 Pirate and a Scarlet Macaw, well, maybe.
I'd only left three days to plan my Halloween costume this year.  So on a whim I decided Matt could be a pirate—a costume we basically had—and I could be a parrot.  In my mind I was going to be a beautiful parrot, red like a scarlet macaw.  I hunted on Pinterest for easy ways to transform myself into the spectacular bird.
Then I placed an order on amazon for red, orange, yellow and aqua boas (these would be my wings and feathers); a red bird mask and beak (the don't sell parrot beaks); a rainbow-colored feather wig and a red unitard.  I had my doubts about the unitard as any sane person should, but I figured I could pull it off with everything else for one night.
All the costume parts arrived the day of the party with little time for adjustments.  I attempted to get myself into the unitard, and I can't quite express how bad it was.  It was tight, shiny and somehow didn't fit anywhere.  Important parts couldn't fit in it, my back didn't even make […]