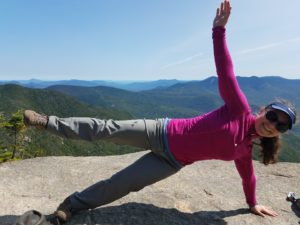 Planking on a mountaintop in New Hampshire
Arms tend to be a weak point for many ladies.  But there are so many fun moves we can do if our arms, wrists, and shoulders are strong and stable enough.  You can do handstands, cartwheels, monkey bars, kick boxing classes, and push-ups.  Am I selling you on arm strengthening exercises yet?  Okay, you can pick up your grand kids, nieces or nephews.  You can lug your own bag through the airport and get it up in the overhead bin without assistance.  Even little things like brushing our hair comes from our arm strength.
To build up to all the exercises you dream of doing, start with the basics.  Check out the videos below for some very basic arm strengthening exercises.  Never do anything that hurts.  It's never worth it.  Take your time building up.
For the Shoulders:
Basic Tricep & Bicep Exercises:
Overhead Press for Shoulders:
Plank to Down Dog (Great for strength and shoulder flexibility combined)
Want to Learn More:
Read Tips for a doing a handstand.  Click here.
Having Goals and Trying a Jacob's Ladder.  Click here.
What is your purpose?  Click here.
Ways to Keep in Touch: