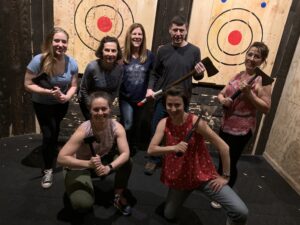 Fun Workout: Axe Throwing
If you exercise more than 30-minutes a day, five days a week, you are meeting the government recommendation. Let's acknowledge two points: that is not nearly enough movement to be healthy (though it's a great start) and if you meet that you do deserve credit. You are in the minority. Only 24% of Connecticut residents meet the standard (and we are one of the better states). So how do we get motivated to move?
Not Motivated
Reading between the lines it becomes very clear that most adults are not motivated to exercise. Why is that? And how can we motivate ourselves and our loved ones to get up and get moving?
The simple answer is: Movement has to be FUN! We need to be excited to move. We call it a WORKout. That's not an enticing activity. It doesn't bring the connotation of Happy Hour, playtime from when we were kids, or snack time. We need to reconsider what we think a workout entails and figure out what would make it fun.
It's not surprising people who do workout often go with a friend (which means some social time), enjoy their […]