When was the last time you enjoyed exercise?  If we change the word exercise to movement, when was the last time you enjoyed moving?  It's time to enjoy exercise again!
Enjoy Exercise Like A Child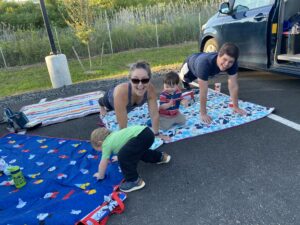 Not long ago I was teaching my 2 and 2.5-year-old nephews to plank (as you do).  One of them was really taken with it.  He'd hold the plank for about two seconds and then pop up out of it (as you do when you're two), look at me and say, "AGAIN!," with earnest excitement.  Then he'd shout an eager, "YES!" as he set his hands up on the ground to come back into plank.  This cycle was repeated multiple times.  I was overjoyed to see someone so unabashedly enjoy exercise.
What Moves Do You Love?
I love to move.  That doesn't mean that I never have to coax myself into it.  There are times when getting started is hard for me.  But overall I love the way moving feels. I look forward to taking a Pilates class, walking with Matt when he gets home from work, and running with my friends.  I like the way it feels when a tough […]