The following post is a guest blog from my cousin, Laura Scaviola.  Hope you enjoy the great tips, fabulous photos, and yummy recipes all thanks to Laura and her blog Mangia Paleo.
You know that feeling after you eat a giant bowl of pasta or a few slices of cheesy pizza? It makes you want to go lay down after eating, right? Well the paleo diet doesn't allow that feeling. The diet suggests eating food (read: nutrition!) that our body truly needs to function. Look at it this way – eating should be to fuel your body. Your post-workout meal should be a response to the workout you just did. The paleo food pyramid is much different than the staple USDA food pyramid. The paleo food pyramid puts lean meat on the bottom, veggies after that, and fruit/fat in the smaller areas. It's something helpful to keep in mind when thinking about portions.
Generally a balanced plate is important. A proper rule of thumb for a balanced paleo plate is this:
1. Lean protein
2. Starchy Veggies
3. Nutrient-dense greens
In that order.
PROTEIN, IT'S NICE TO MEAT YOU Your muscles should be fed in order to rebuild properly. Protein time! A few times a week I swap out the lean protein with salmon or steak. Eating salmon once or twice a week helps for fatty acid consumption. Including red meat in your diet also aids in proper iron, zinc, and vitamin B12 consumption. Organ meat is also something I eat occasionally to fuel my body with dense nutrients and minerals. If you're not an offal fan here's a recipe to hide it in a chicken burger!
STARCH MADNESS
Comfort food at its finest. Parsnips. Sweet Potatoes. Plantains. Spaghetti squash. Carbohydrates in these starches aid in the production of insulin which helps us rebuild our muscles quickly. These carbs are good carbs that get stored for muscle energy. So eating them post- workout ensures they are used correctly. If you are carb loading throughout the day on sugar, bread, etc your body stores it inconveniently. That's when you have to buy new pants.
The more veggies the better.
IT'S NOT EASY BEING GREEN
When I say 'green' I mean leafy greens. Kale. Spinach. Chard. Arugula. It can be really easy to ignore this food group since the greens don't fill you up too much. I mean, when is the last time you ate an arugula salad and said, "I am so full. You're going to have to roll me out of here!"?
Here's a positive spin – integrating leafy greens in your diet is a low-caloric way to give your body the vitamins it needs.
WATER!
Whether you break a sweat or not your body needs to rehydrate after all the work it has done. Drink at least 10 ounces of water immediately after your workout.
BREAKFAST
Add some sausage to this Spaghetti Squash Broccoli Casserole and cut yourself a square each morning.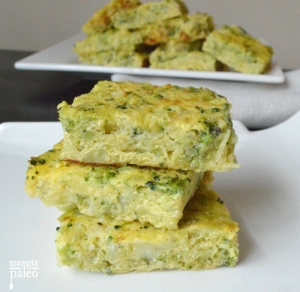 LUNCH
Cobb salad with lemon olive oil dressing. The slower digestion of protein and fat will keep your energy throughout the day.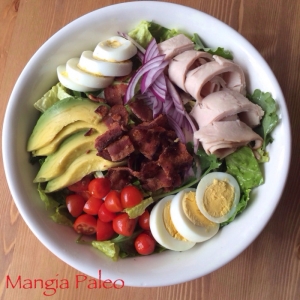 DINNER One skillet Tuscan Chicken and Root Veggie Mash on the side
Laura Scaviola is the author of MangiaPaleo.com, an paleo Italian food blog with focus on health for Inflammatory Bowel Disease. After being diagnosed with ulcerative colitis she gave up her favorite Italian food (goodbye pasta and cheese!) and turned to a better lifestyle to help manage symptoms of the disease. Her hope is to inspire others living with Crohn's and Colitis. Join Laura's network on Twitter or Instagram @mangiapaleo and Facebook at facebook.com/mangiapaleoblog.[/fusion_builder_column][/fusion_builder_row][/fusion_builder_container]