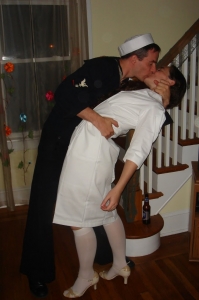 Matt and I have been together for ten years today. And I think we are both pretty lucky to have found each other. We are a good match, and I'm happy to have him by my side in life. He is a good person to have next to you when times are good and when times get tough. He's also a good inspiration for me.
It was Matt who helped coax me to start my own company. I was very nervous to leave my job and take the leap to being self-employed. Matt kept suggesting it was the right decision and that once I made the decision I would feel good about it. He was right. I love what I'm doing and I haven't regretted the decision yet.
He may not do pilates himself, but he is a good advocate for pilates. And if you take one of our classes and love it, you have Matt to thank, at least in part. Not only did he help give me the nudge I needed to start the company, but in the beginning he was the guinea pig for every exercise. He probably had to do the 100 one hundred times early on.
I love him and it's been a good ten years. And for five of them he has willingly appeared in plank stories. If nothing else, he deserves some credit just for that. He's a good sport.
I've tried to come up with a better name for Matt than boyfriend. Years ago I wrote an OpEd about it. If you'd like to read it,
here is the link
.