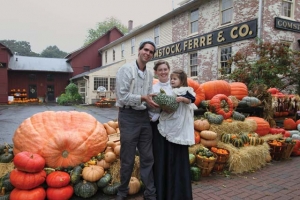 When the weather is nice my favorite thing to do is stroll Old Wethersfield. It is such a beautiful neighborhood. If you get a chance, here is what I recommend.
Park somewhere on Main Street (near The Main Street Creamery). Indulge in an ice cream if it makes you happy (they offer junior sizes that help reduce guilt). If the Creamery is on your left walk straight until you get to the cove. Walk back on Main Street, past the Creamery. At a stop sign take a left onto Garden Street. This will take you to the Broad Street Green. Walk around the green and then go back Garden Street (or go back via Broad St and Marsh St). This is probably about a 3-3.5 mile loop. If you want to make it longer at some point walk down and back up Hartford Avenue, which has a lot of beautiful homes on it too (this will add 2 miles if you go all the way down Hartford Ave.) .
Stop by Comstock Ferre's (it's just around their 200th anniversary), or have lunch and Lucky Louie's, or sit on a park bench and people watch.
Is there a place that you love to walk around your neighborhood?