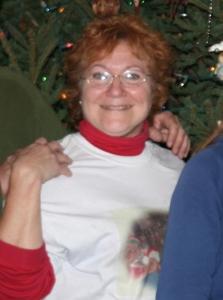 You're only as young as you feel is a common saying. I say it all the time, and I believe it, but right now I'm not so sure how true my mom thinks it is.
A few weeks ago she went to Canada with my stepfather to visit her brother-in-law. My mom is 61, but you'd never guess it. She looks young for her age and is very active. A few years ago she walked a marathon. She's told me one more than one occasion that she still thinks of herself as 25, but every once in a while she'll catch herself in the mirror and be a little surprised by reality.
It's that 25-year-old came and reared her head on the Canadian visit. Her brother-in-law was teasing her for being old, so my mom announced that she wasn't old and decided to prove it by pole-vaulting herself over the couch using her arm as a pole vault. This did not go very well and my mom dislocated her shoulder and tore her rotator cuff in three places. She was in a great deal of pain from the injury, but also because she was feeling her age.
I hope that on some level you are laughing at this story. The injury is serious, but if you actually picture what transpired, it's quite funny—and even though my mom has had limited use of her arm for weeks and is very frustrated about that, she can laugh at the scenario.
But the real question is, are we as young as we feel? On a very basic level obviously there is a difference between 61 and 25, but we all know that. And if you are familiar with 61-year-old comedian Lewis Black you may have seen his skit teasing baby boomers who tell him 60 is the new 40. He retorts, "Sixty is 60. Forty is 40. That's why they're different (expletive) numbers!"
Heck, I just turned thirty and I've noticed difference in my body, skin, and energy. Time certainly does change things; we can't deny that. But let's not forget that people under sixty have torn their rotator cuffs before. Attitude is vital. If the same scenario were to play itself out again, I'd want my mom to try the same thing. I wouldn't want her to get hurt of course, but I don't want her to think she's too old to do something fun—what a terrible and boring life that would create. I'd rather her go around thinking she's younger than me (who cares that people judge her for having a child before she was born).
Even her doctor told her she had to have the surgery because she was too young not to. So she's young—doctor's orders.
Do you feel your age? Younger? Older? Do you let age get in the way of doing things you want? Is the statement you are only as young as you feel true or false?