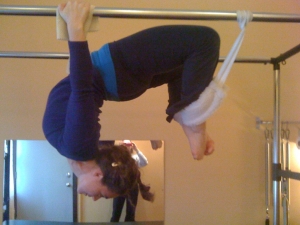 I don't just teach pilates, I do it too. I take private classes once a week, usually give myself a 45-minute to an hour class at least once a week, and try to do 10-30 minutes of pilates the rest of the days. I do other types of workouts too because I love and believe in variety, but I look forward to my private class every week.
It's when I know that I'm going to get to completely practice on my body. I think it makes me a better teacher, and I love getting to be a student.
I also love the iphone because it enables my instructor to take pictures of me and prove that I do pilates, especially when I'm doing something fairly cool like this: The Spread Eagle in the Fuzzy Hanging Straps.